CHOOSING THE RIGHT SURFACE PUMP
Just answer the following four questions
Question 1 : What is the suction depth ?
Answer : 4 m
Example : The water is roughly 4 m lower than the pump
Question 2 : How long is the sprinkler pipe ?
Answer : 6 m
Example : 60 meters of pipe
Head loss* is estimated at 10 % of the overall pipe length, so count
Question 3 : What is the height difference between the pump and the water outlet ?
Answer : 8 m
Example : The water outlet(s) are roughly 8 meters higher than the pump 8 m
No matter how many water outlets there are**, we consider at least 2 bar of outlet pressure necessary for proper working.
2 bar is the equivalent of 20 m head, so count
YOU THEREFORE REQUIRE A TOTAL DELIVERY HEAD OF : 3.8 bars / 38 m
Question 4 : How many water outlets are in use ?
(garden sprinkler and/or hosepipe, tap, WC, shower, washing machine, etc.)
Example : 2 water outlets
Assuming a water outlet delivers an average 1 cubic meter per hour (m3/h)
YOUR OUTPUT REQUIREMENT IS 2 m3/h – 2 000 l/h
PLEASE NOTE : For a pump at the bottom of a well, the calculation is the same but with a suction height of zero.
* : water flowing in a pipe loses pressure (frictional head loss). The estimated loss in a 19 mm (3/4 ") pipe is 10 %.
** : A pressure of 2 bar (20 m head) is considered necessary for a water outlet to work properly.
No matter how many outlets there are, the required pressure will always be 2 bar, as pressure is not additive.
Now look at the product performance graphs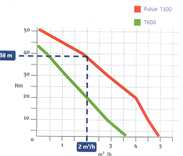 Once you have established the flow rate and pressure, all you have to do is look at the graphs for each TECNOMA pump and choose the pump whose curve passes through or close to the point where your two values intersect.
Example : head 38 m, output 2 m3/h
The PULSAR 1300 pump curve goes though this point.
This calculation does not affect your choice of whether to use a manual start-stop, top-up, or automatic booster pump ; the type of pump is purely dependent on the use you make of it (automatic or not, domestic use, etc.).